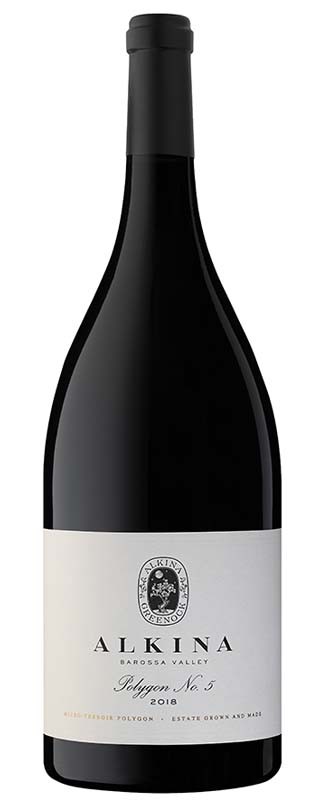 2018 Polygon 5 Magnum
A singular expression of Grenache from Polygon 5, a tiny patch of our old vineyard that we have studied extensively and picked and vinified separately. Wild in nature and darker in fruit complexion, this is a structured and intense wine with svelte, mouth-coating tannins.
Estate grown and made
Certified organic and biodynamic fruit
100% Grenache
47 cases and 120 magnums produced
14.2% alcohol
Tasting Notes
Wild in nature and darker in fruit complexion, this is a structured and intense wine with great tension and svelte, mouth-coating tannins.
Vineyard Notes
No. 5 consists of two very similar nearby parcels making up 0.37 hectares in size. Working with terroir specialist, Pedro Parra, we identified this polygon to be uniquely significant because of its heavily fractured schist composition. There are deeper soils sitting above a thick band of micaceous schist that contains veins of iron-rich clay within the fractures. NASAA certified organic and biodynamic.
"After mapping and separating the Alkina vineyard in Greenock into tiny patches known as polygons, based on varying geologies, the winemaking team has made tiny amounts from the most distinctive of them in what they deem the results of intense research and extreme commitment. The prices of their Polygon wines reflect this and their rarity. Another all-grenache wine from a small schist and ironstone section, the wine is radically different to its Polygon No. 3 sibling. Here it reveals darker fruits with herbal wildness, some orange peel and flesh also in its initial aromatic greeting. Bigger, more generous in its layered fruit power, its tannin texture is still superfine with an earth and chalk dust feel. Again, a complete statement of grape and ground."
95 points, Tony Love, winepilot.com
---
"Darker and more savoury than the Polygon 3, a little more spicy, even though the parcels are just 30 m apart. Smells richer and of tangy black not red fruit. Firmer and more structured than the Polygon 3. So much tangy freshness and purity. More sinew. More power. Chewy and fresh but the acidity is less vibrant because it is tied in with the tannins rather than with the fruit. As it opens, there is that merest hint of floral that I found on the 3. Likely to benefit from another year or two in bottle."
17+/20, Julia Harding MW, jancisrobinson.com