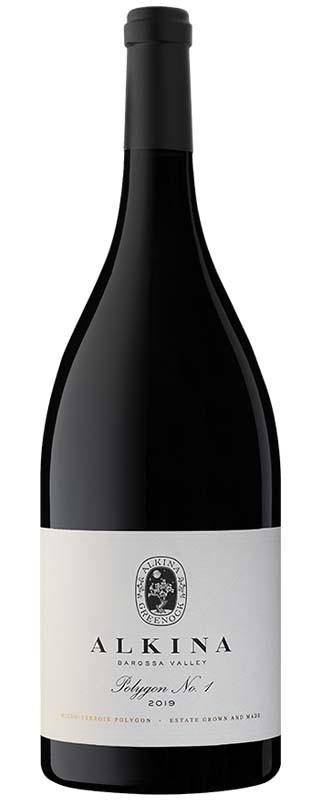 2019 Polygon 1 Magnum
A very detailed study of terroir yields a unique expression of Greenock Shiraz from a thin strip of old vines behind the Alkina homestead that we have identified as Polygon 1. A layered and extremely complex wine where pepper and Asian spice complement a vital core of cool red and black fruit and beautifully shaped tannin.
Estate grown and made
Certified organic and biodynamic fruit
100% Shiraz
46 cases and 50 magnums produced
13.5% alcohol
Tasting Notes
A layered and extremely complex wine where pepper and Asian spice complement a vital core of cool red and black fruit and beautifully shaped tannin.
Vineyard Notes
This 0.4 hectare polygon is part of the Old Quarter of the vineyard and was split into four distinct parcels by our terroir specialist, Pedro Parra, during his second visit in 2018. Three parcels of vines sit on heavily fractured micaceous schist. One small area of 0.097 hectares in the middle lacks this schist content and is excluded from the ferment. NASAA certified organic and biodynamic.
"After mapping and separating the Alkina vineyard in Greenock into tiny patches known as polygons, based on varying geologies, the winemaking team has made tiny amounts from the most distinctive of them in what they deem the results of intense research and extreme commitment. The prices of their Polygon wines reflect this and their rarity. Even within just a 0.4 hectare section, four distinct parcels have been further separated for this unique creation of shiraz, 100% whole bunch fermented in concrete before nine months in a ten year old barrel. Lifted with raspberry and chocolate notes, peppery spices - almost Szechuan, certainly an Asian pantry feel – this immensely attractive, medium bodied, open-weave wine is simply delicious to drink. Chinese dishes for sure, though it's so appealing on its own."
95 points, Tony Love, winepilot.com
---
"Deep cherry red, much darker than the Grenache wines. Dark and pure and a touch smoky/reductive. Rocky, dark dust and also a little bit floral. Dark and with a touch of peony, so northern Rhône. If I had tasted this blind, I would have been in Côte Rôtie. Also a balsamic note. Layered, complex, hints of smoked meat. Juicy but with scratchy tannins. Tight and moreish and strong but very fine, highly toned but elegant. Tannins need time but they bottled this early to capture the aroma. Roundness from the fruit. So fresh and long. Clean in your mouth like dark chocolate, plenty of dark fruit but no Shiraz sweetness. More linear than broad. The tannins melt on the second day. Sheer, tender beauty."
17.5/20, Julia Harding MW, jancisrobinson.com
---
"From a single schist polygon of 0.75 acres (0.34ha), defined on Pedro Parra's second visit in 2018, this was 100% whole-bunch fermented in a 450-US-gallon (1,700-liter) concrete tulip, basket-pressed, and matured in a 10-year-old, 114-US-gallon (430-liter) neutral barrel previously used for a rosé ferment, resized by a cooper in the Barossa. Dark in color, showing notes of coffee and dark berry, and tinged with pepper and spice, it displays a youthful, lively freshness, closer to northern Rhône Côte-Rôtie or Cornas than Barossa Shiraz, and already delicious drinking.
95pts, Anthony Rose, World of Fine Wine Magazine