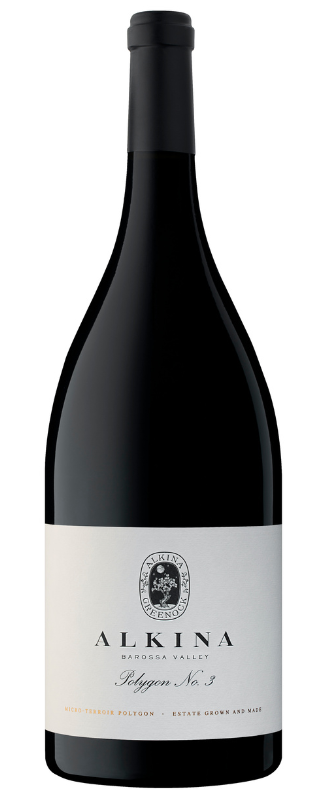 2020 Polygon 3
An ethereal, intensely aromatic style with complex red fruit, florals and amaro spice overlaid on a rocky foundation and a great sense of energy on the palate.
Estate grown and made
Certified organic and biodynamic fruit
100% Grenache
680 bottles and 90 magnums produced
13.3% alcohol
Tasting Notes
A singular expression of Grenache from Polygon 3, a tiny patch of our old vineyard that we have studied extensively and picked and vinified separately. An ethereal, intensely aromatic style with complex red fruit, florals and amaro spice overlaid on a rocky foundation and a great sense of energy on the palate.
Vineyard Notes
Polygon No. 3 is just 0.274 hectares in size and contains approximately 200 vines. Working with terroir specialist, Pedro Parra, we identified this polygon to be unique in its limestone content. There is shallow red brown earth over deep chalky sedimentary limestone which contains fractured schist and the limited presence of iron. NASAA certified organic and biodynamic.
Lightish crimson. Delicate, fragrant, sweet little red berries like wild strawberries but also a touch of dried sour cherry alongside a stone-dust minerality and hint of spice. Subtle yet complex. The tannins are remarkably fine but still a little bit clenched, the wine so youthful even though the aroma was immediately open and inviting. Linear in the mouth and extremely persistent.
17.5pts, Julia Harding, jancisrobinson.com
---
"The new vintage of Alkina's two single-block old-vine grenaches, both from 2020, will be released in April. Tasting the wines side by side is a deliciously compelling demonstration of the reality of rock-derived terroir. The Polygon 3 is made from gnarly 70-year-old vines growing in red dirt over crumbly fractured limestone, shot through with lumps of schist. It's full of fine, floral, perfumed red berries and some macerated red cherry, and has a lovely, flowing, quality of tannin that floods the mouth. The Polygon 5 is made from grapes grown in the same vineyard – but picked from vines planted in patches of deeper red dirt over fractured schist with veins of iron-rich clay. The wine is slightly deeper in colour, with darker berry fruit, earthier aromatics and a sinewy, structural quality to the tannins."
Extract from Max Allen's recent Alkina article in the Australian Financial Review
---
"A Polygon is a stringently defined plot, based on soil mapping and geology. Here, the magical mesh of limestone and schist, dating from the 1950's. Among the finest iterations of straight grenache in the world. Irrefutably. Tastes akin to top-drawer Burgundy, much like Rayas, with a similar Mediterranean jive of sweet fruit. Mid-weighted of touch, with a veil of chiffon tannins enveloping clove, white pepper, Seville orange, tamarind and kirsch. Ineffable really, so good is it. The feeling, ethereal, nervous and jittery; graceful and optimistic, such is the beauty on show. This could easily be nudged one more point upwards. Drink or hold."
97 points, Ned Goodwin, jamesuckling.com
---
"Clear and bright hue but not deep. A gloriously fragrant, indeed perfumed, bouquet of rosewater and violets, the palate in perfect unison, long and textured, with red fruits and multiple oriental spices. You can see a gentle hand on the tiller. 680 bottles."
97 points, James Halliday, The Weekend Australian
---
"A lighter colour, a bright medium purple-red hue, with a fragrant aroma of mixed spices, the palate elegant and graceful yet concentrated and intensely flavoured, with the aerial side of grenache's nature clearly evident. Fruit-sweet at its heart. Pepper, cloves, assorted brown spices. Lovely wine indeed, with great line and length."
96 points, Huon Hooke, The Real Review
---
"Fantastic expression of the variety. It's velvety, dry, seamless and complex. This is essence-of-the-earth stuff. Floral flings, meat notes, star anise, fragrant herbs and roasted nuts. Cherries too, lively and ripe without being overtly sweet. Everything here is expressed in the most harmonious and integrated of ways, like feathers on a wing of flavour, all combed the same way, in curled waves, flowing. Absolutely super."
96 points, Campbell Mattinson, The Wine Front
---
"Polygon 3 is grown on limestone, which brings elegance and minerality. Having just tasted a group of 2022 Grenaches, I was reflecting on the possibility that might just prefer Grenache is two windows of drinking. Firstly, extremely young. The attractiveness of youth is almost impossible to resist. Secondly, five or more years in bottle. With Grenache, I find the fruit very quickly subsumed by characters of black pudding, blood, truffles, and mushrooms—highly seductive but a total change of gear from the vibrancy of youth. Here, this 2020 Polygon 3 Grenache has had the edge of youth rubbed off of it, but it has not yet gained these condary complexity of age. From a very warm and low-yielding vintage, this wine shows a brooding nature of pepper-rolled pastrami, charred sandalwood, pomegranate molasses and brine. There is some orange zest through the finish. The iron content of the soil accounts for the reduction at the beginning of this wine. Air releases this reduction, and it is a completely different wine now. In a hot year, such as 2020, it is crucial that the picking is executed exactly when it needs to be. It cannot be a day or two later. We lose everything. 680 bottles only, 13.3% alcohol, sealed under natural cork.
94+ points, Erin Larkin, Robert Parker Wine Advocate
---
"The 2020 Grenache Polygon No.3 is shy - it needs plenty of time to open up. Arresting wild raspberry aromas show impressive purity, boosted by a meaty wood smoke undertow. The frame is muscular and tannic - the fruit tighly wound in a firm mineral-driven package. The undoubtedly impressive length and compelxity promise a wild ride over the next decade."
93 points, Angus Hughson, Vinous