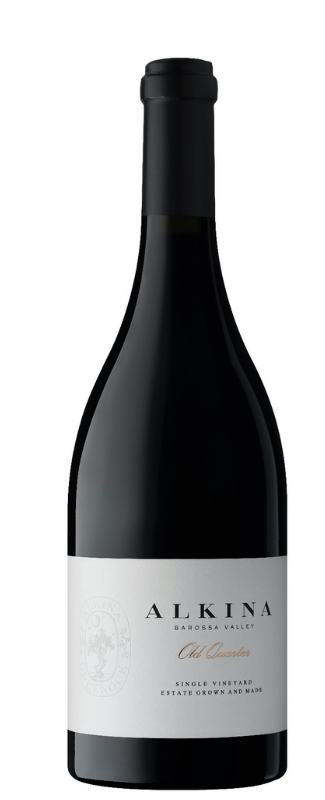 2020 Old Quarter
An elegant, perfumed blend of Grenache, Shiraz and Mataro from the Old Quarter of the Alkina vineyard, planted in the 1950s. This is a pure expression of the character of the site that we arrived at by splitting it into its constituent geological parts before blending to find beauty, character and harmony.
Estate grown and made
Certified organic and biodynamic fruit
60% Grenache, 20% Shiraz, 20% Mataro
150 cases and 100 magnums produced
13.8% alcohol
Tasting Notes
2020 Old Quarter is a worthy follow-up to the inaugural 2019 vintage. With Grenache in the lead (60%) the wine shows classic lifted red fruit and floral aromatics but there are layers there too, with wilder elements and distinct minerality. On the palate we love this wine to have a velvet texture, again a characteristic of the Polygon 4 Grenache grown on fractured clay. The fruit is deep but not sweet and the tannin builds, leading to a long, savoury finish. As always, the goal of our blending was to find beauty, detail, the character of the Old Quarter, and harmony across the components.
Vineyard Notes
The characteristics of Old Quarter from 2020 are underpinned by the intense Grenache from Polygon 4 which is planted on hard, fractured clay with a little schist. It makes up 60% of the blend. We did not include Polygon 2 Grenache in 2020 (as per 2019). The P4 was blended with the Mataro from P6 (20%) and the Shiraz from P8 and P7 (15%) plus some declassified Polygon 1 Shiraz (5%). NASAA certified organic and biodynamic.
2019 VINTAGE
"The Old Quarter refers to a section of the Alkina vineyard planted in the 1950s to the district's classic varieties, in this instance the reds grenache, shiraz and mataro. The crew here consider this the purest expression of the site as a whole, Alkina manager Amelia Nolan calling it "our most important achievement". Having mapped the block into tiny sections with unique geologies, each called a polygon, the fruit from five separate patches was fermented individually with indigenous yeast in concrete tulips with an average of 70% whole bunch included before maturation in a mix of concrete and older, larger French oak. The makeup of 50% grenache, 29% shiraz and 21% mataro weaves together a multitude of aromatic and flavour characters: charcuterie, blood pudding, dark plum, dark choc and orange with an underlying chalk and talc composition that acts as a textural foundation to its lifted top notes. The crowning achievement here is a completeness, a symbiotic and harmonious wine that defies being deconstructed into its parts. All class and right at the top of the league in this genre"
Tony Love, winepilot.com - 97pts