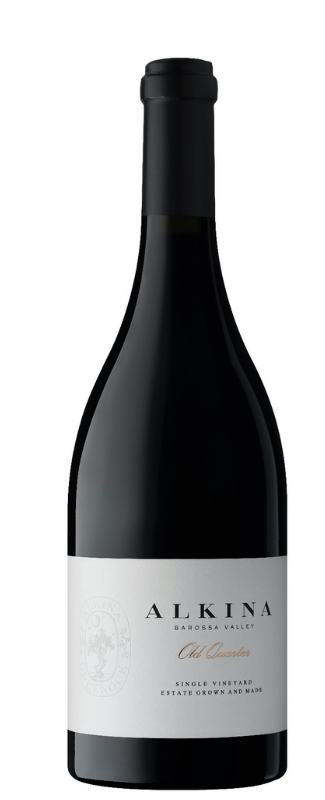 2020 Old Quarter
An elegant, perfumed blend of Grenache, Shiraz and Mataro from the Old Quarter of the Alkina vineyard, planted in the 1950s. This is a pure expression of the character of the site that we arrived at by splitting it into its constituent geological parts before blending to find beauty, character and harmony.
Estate grown and made
Certified organic and biodynamic fruit
60% Grenache, 20% Shiraz, 20% Mataro
150 cases and 100 magnums produced
13.8% alcohol
Tasting Notes
2020 Old Quarter is a worthy follow-up to the inaugural 2019 vintage. With Grenache in the lead (60%) the wine shows classic lifted red fruit and floral aromatics but there are layers there too, with wilder elements and distinct minerality. On the palate we love this wine to have a velvet texture, again a characteristic of the Polygon 4 Grenache grown on fractured clay. The fruit is deep but not sweet and the tannin builds, leading to a long, savoury finish. As always, the goal of our blending was to find beauty, detail, the character of the Old Quarter, and harmony across the components.
Vineyard Notes
The characteristics of Old Quarter from 2020 are underpinned by the intense Grenache from Polygon 4 which is planted on hard, fractured clay with a little schist. It makes up 60% of the blend. We did not include Polygon 2 Grenache in 2020 (as per 2019). The P4 was blended with the Mataro from P6 (20%) and the Shiraz from P8 and P7 (15%) plus some declassified Polygon 1 Shiraz (5%). NASAA certified organic and biodynamic.
"The old quarter is your classic blend of Grenache, Shiraz and Mataro drawn from numerous blocks planted in the 1950s which are certified organic and biodynamic. It's a hearty and savoury example of the blend which shows a beautifully perfumed start with its bright garnet red colour followed by fragrant dark cherry, red liquorice and exotic spice aromas, oak sitting gently in the background. The palate is then bone dry, and fleshy, and takes a distinctly savoury turn into tobacco and dusty, baked earth flavours over brooding mulberry fruits well supported by ripe, well managed tannins. There is an attractive rusticity to the finish too which only adds to its drinkability. Enjoy with pink lamb backstraps."
93pts, Angus Hughson, Wine Pilot