The Thoughtful Winegrower: A Blog
Welcome to our blog. This is where you'll find and account of our journey into terroir, viticulture, geology, organics, biodynamics, regenerative agriculture and all sorts of other fun (aka nerdy) things that we think about.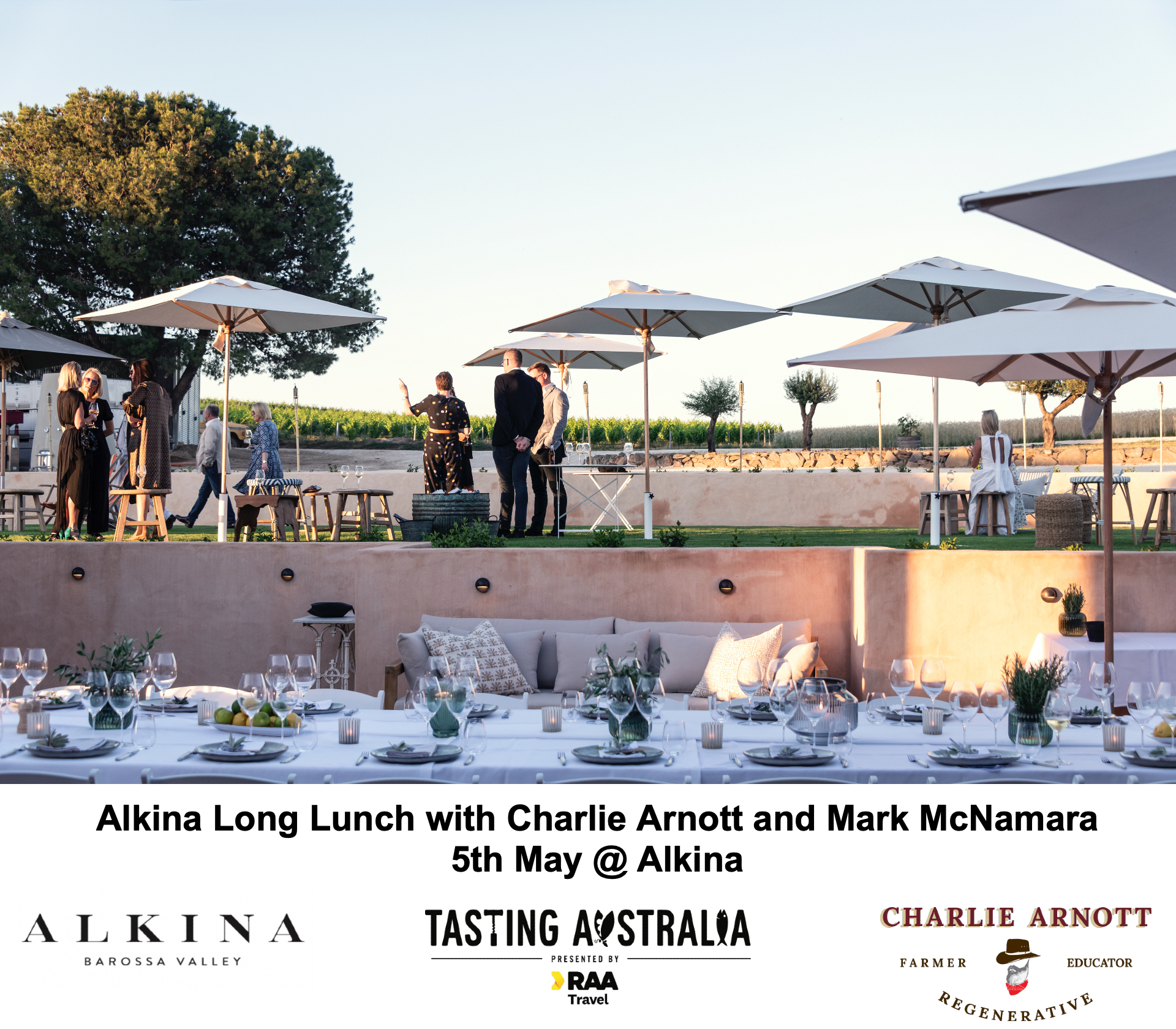 TASTING AUSTRALIA: Alkina Long Lunch with Charlie Arnott and Mark McNamara - Wed 5th May, 11:00am – 4pm. Ticket: $175 - SOLD OUT
Discover Alkina, meet Charlie Arnott, enjoy a delicious long lunch and learn about organic and biodynamic winegrowing in Greenock in the Barossa's Western Ranges.
You'll walk the vineyard rows and explore soil pits, before enjoying canapés and a tasting of Alkina's rarest terroir wines. Alkina has undertaken a unique and detailed terroir study to identify tiny parcels of old vine Grenache and Shiraz planted on different rock and soils types within the vineyard. We hand pick and vinify these 'Polygons' separately and you'll be able to taste these special wines, see the rocks and understand the special relationship between place and wine.
Then it's onto a long table in the Courtyard for a fabulous 3 course meal cooked over fire by Barossa legend, Mark McNamara, featuring the very best local Barossa and SA produce and suppliers. With Alkina's wines matched to the food and with magnums flowing, we'll enjoy a yarn with Charlie as we go.
Charlie is an award-winning grazier from Boorowa, New South Wales, Australia, an educator and passionate advocate for Regenerative Farming practices. His family business has developed under Charlie's guidance from a 'conventional', industrial high input mixed enterprise farm working against nature to a biodynamically principled holistically managed farm partnering with nature. His podcast - The Regenerative Journey - is compulsive listening.
Having only recently opened, Alkina is a new story on an old place. It's a journey through ancient stones and soils, organic and biodynamic viticulture, small scale winemaking and the creation of unique micro-terroir wines, all grown and made on our estate in the Western Barossa ranges. Alkina seeks to make wine that is an expression of place; pure, authentic, terroir wines from healthy vines in healthy soils. Alkina sits on the traditional lands of the Ngadjuri people. We acknowledge the Ngadjuri people as the traditional owners of this land and we pay our respects to elders past, present and emerging.
Tasting Australia: Alkina Long Lunch with Charlie Arnott and Mark McNamara
Wed 5th May
11:00am – 4pm
Ticket: $175 SOLD OUT
Dietary Requirements catered for.
Return transport can be arranged from Adelaide (at extra cost).

Join hosts Charlie Arnott (Farmer, Educator, Host of 'The Regenerative Journey' podcast) and Hamish Mackay (Biodynamics2024) for two memorable days of hands on learning at Alkina.
Bioydynamics is grounded in the work of Rudolf Steiner, inspired by questions, conversations, practical research and eight lectures with the title, The Spiritual Foundations for the Development of Agriculture (June 1924).
Biodynamics is a contemporary, cost-effective and proven method that produces high-quality food and fibre, as well as healthy animals and premium products, while achieving regenerative outcomes in all forms of agriculture (animal husbandry, horticultre, silviculture, etc.) and home gardens. Proven regenerative outcomes are : increased organic matter, water retention, soil and animal fertility, soil foodweb balance and soil sequestration of atmospheric carbon.
This introductory workshop brings together the art and science of biodynamics, the 'how and why' biodynamic preparations work, and the practical skills you need to start applying them as soon as you get home.
We will cover :
The life of the soil
Creating soil fertility
Managing your natural resources
Practical application of the biodynamic preparations
Developing risk management of your land ( weeds, pests, diseases)
Meeting the challenges of climate change ( drought, floods, carbon sequestration)
This workshop will lay the foundation for the hands-on Biodynamic Preparation-Making course held each spring and autumn. Here you will learn how to make season preparations, deepen your understanding of how to apply them to sustain regenerative ecological outcomes and increase the health of the soil, plants, animals and the wider environment.
Cost :
Early bird ticket - $550 pp (Book and pay before 1 March 2021)
Multiple participants from one family or business. BGWA members discounted rate - $440 pp
Intro to Biodynamics Graduate - $220 pp
Single participant - $660 pp (From 2 March)
Workshop fees include lunch, morning and afternoon teas on both days. Additionally, it entitles you to attend monthly Biodynamics2024 webinars with Hamish and Charlie as well as access to the Biodynamics Alumni Facebook group.
Hamish and Charlie look forward to sharing their enthusiasm and passion for Biodynamics and lead you through this two-day, interactive, hands-on and engaging programme.
Location : Alkina, 41 Victor Road, Greenock, SA 5360
THIS IS THE RESCHEDULED EVENT FROM DECEMBER 2020